On January 3rd, 2020, Groupe ISCAE signed a new partnership agreement with the Japanese university RIKKYO UNIVERSITY.
This partnership is the result of the working visit of the General Director of Groupe ISCAE to RIKKYO University in October 2019.
It is in alignment with the international opening policy of Groupe ISCAE that aims to enrich and diversify our portfolio through academic partnerships with premium positioning.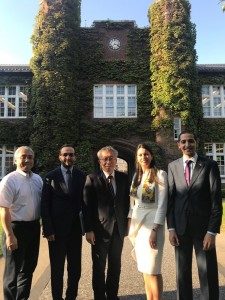 A souvenir photo with RIKKYO UNIVERSITY Managers and Morocco's ambassador to Japan
Founded in 1874 in Tokyo, RIKKYO UNIVERSITY was selected as part of the "Top Global University Project" in 2014, a program that the Japanese government has set up to support universities that are leading the internationalization of Japan's education by launching new programs to encourage and deepen interactions and partnerships with the world's top universities.
RIKKYO UNIVERSITY was ranked 14th among Japanese universities in the 2019 world university ranking, according to Times Higher Education (THE).
This university combines authenticity of the oldest universities with modernity, through the integration of new technologies and the opening up to the international.
So far, Groupe ISCAE is the unique RIKKYO's partner in the MENA Region.