The EFMD 2019 Deans and Directors General Conference, organized in Shanghai, hosted by CEIBS, gathered about 300 delegates from 53 countries and 43 speakers from Business Schools decision makers to business world professionals.
The conference was an opportunity to have the EFMD market overview, to discuss the global and specific challenges that BS face in a volatile environment, as well as to network with world-class Business Schools and meet partners. It was also the first EFMD Deans and Directors General Conference organized outside Europe. As a matter of fact, the 2019 conference put an emphasis on China's importance in the global business world in general, and the impressive development of Chinese business schools (55 Chinese BS are EFMD members) in particular.
The conference offered also the opportunity to get the latest information about EFMD network that counts today 936 members in 91 countries, mostly in Europe (560) and Asia (160 with 38 EQUIS accredited BS).
Also, a whole day was dedicated to explaining EFMD accreditations standards, through its quality services. Business School Impact System "BSIS" was presented as the first comprehensive tool to assess a business school impact. A special interest has been shown towards Africa (Africa-EU), as one of the international projects.
The General Director of Groupe ISCAE and the President (European) of CEIBS / Shanghai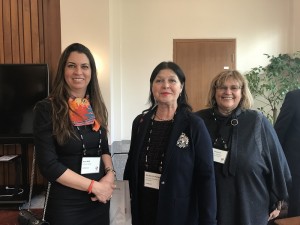 The General Director of Groupe ISCAE, the Dean of Corvinus Business School / Budapest, and the Dean Ljubljana University
Why Choose China to host the first EFMD Deans and Directors General conference out of Europe?
First of all, China has a special place in the global context, illustrated by different significant indicators:
-40 years reform and open-up;
-2nd largest economy in the world;
-Largest consumer market since 2018;
-120 companies in Fortune 500;
-Economic transition.
Also, the Chinese B. Schools are major players and gain increasing visibility in the international picture of business education:
-More than 210 colleges and universities offering MBA programs, 38 of them are EQUIS accredited;
-7 out of the top 10 MBAs are Chinese, according to 2018 rankings.
So, the scene for this year conference was about the understanding of advances in management development with a China focus. China is a great example of deep reform and opening-up strategy. China's impact in different continents, with a special interest in Africa is obviously remarkable. Impact, Diversity, and Innovation were the most redundant words that came out during the conference. Morocco was also cited many times as an opportunity market for Chinese companies.
Globalization of Chinese Companies
Presenting the trends of M&A for Chinese Companies Overseas shows how they went global with a great jump since 2015. Guest speakers, which were all alumni, presented their experiences as top leaders of major Chinese companies in different sectors. They shared the values and visions of their companies in very inspiring ways that prove how creative and visionary they are. Also, they have put emphasis on the digital and operation management in a growing demanding and changing market worldwide. Guest speakers gave their insights on the challenges companies are facing when it comes to integrating a new globalization strategy, how to merge two cultures and have a successful merger in the long run.
Entering foreign developing or underdeveloped countries is different from entering developed countries. The approach has to be more targeted and adapted to the specificities of the country where the acquisitions are made. It's also important to think about sustainability of globally acquired companies, before acquiring overseas. Guest speakers insisted on the respect of local history, laws and practices, as much as integrating the global trends. As one of the guest speakers from a food / fishing company said: "Fish of the world, but Chinese cuisine".
"Happiness, Wealth and Health" were the values of a lady speaker from a fashion group including the famous brand "Lanvin". She insisted on the importance of biotechnology and the block chain because relevant transparency is a significant trend.
For another Alumni, who founded his own company 25 years ago, becoming the n°1 in China Power tools (Chervon), the production market is getting more consolidated worldwide, while it is booming in China, with amazing global footprint. Impact of his company is illustrated by the phrase "Better Tools. Better World".
During the conference, attendees had also the chance to listen to influent personalities, such as Jiang Jianqing, former Chairman of the Industrial and Commercial Bank of China (ICBC), also Adjunct Professor of Finance at CEIBS, the host B.school, explaining the logic behind the evolution of international finance and the journey of China's financial Reform. It was interesting to understand the international influence of China's financial industry, after 40 years of reform and opening-up. He concluded by confirming the idea that digital reinvention is the definite path for developing the financial industry.
More general topics were discussed in relation with the global shift, how it impacts business education and in what relevant ways business schools react:
Global Shift and its impact on business schools
To understanding the implications of the changing world economic order on business school, it's important to catch the signals and take into account the following reality:
-BRICS multinationals in the Fortune Global 500 have grown from 16 (in 1999) to 129 (in 2018); and according to Mc Kinsey, this will grow to 225 in 2025.
-Africa as a great opportunity.
So students, and consequently B. Schools, ask for more contextual material, with local content.
-Digital disruption with on-line degrees, Harvard HBX, Coursera…; and for a longer term, the continuous development of Artificial Intelligence, leading to new business models.
-Competitive environment for Business Education has changed with the arrival of new competitors, fragmenting the global BS market and signing the end of the "Cash Cow" Era of the MBAs, multiplying specialized programs.
This of course influences the student profiles and interests, with many challenges to face:
-Mission of B. Schools and what it means for individuals and society;
-Pressure for real time content;
-Focus on experiential learning, exchange, travel study;
-Demand for pedagogical innovation;
-Motion from Industry to Academics, to maintain relevance;
-Specialization, with multi-disciplinary approach;
-Intense interest in social enterprise / Positive business / Sustainability / Responsibility;
-Return back of International students
-rise of entrepreneurship and tech;
-Importance of global engagement and partnerships and networks management;
-Deanships requiring significantly more business acumen; relatively less academic focus;
-Increasing importance of administrative professionals (marketing, admissions, corporate engagement);
-Necessity of the engagement of all actors (government, corporate partners);
-More financial pressure.
Entrepreneurial Approach in Business Education
Preparing the Next Generation of Leaders:
The Role of Professional Development in B.Schools
Professional development matters for business schools for many reasons:
-There is more and more emphasis on the increasing role of administrative support and academic management;
-Need of strong leadership with highly engaged, willing people working as a team;
-Restructuring and turn-around in management;
-Building an intra-school succession pipeline for leadership;
-Necessity of community building, connecting participants, alumni and facilitators.
For at least these reasons, higher education institutions need faculty and senior managers who are empowered and ready to take on broader strategic responsibilities. But they also need leaders that are willing to enhance their professional skills while developing and growing personally.
This is why B.schools Deans implement targeted development activities to support the effort of the top management:
-Find the right persons through internal planning, external refresh and "out of the box" recruitment;
-Hold, counsel and coach talents (ideally with both academic credibility and leadership), through professional skill development;
-Build teams and support them;
-Empower by involving Academic Heads, reinforcing academic heads role in promotion and encouraging female leadership;
-Rethink the school's governance structure according to international accreditation standards logic;
-Set a succession line, by empowering step by step, before giving full responsibility through formal appointment.
Actually, a Dean or General Director should be acting as a transformational architect: by establishing a meaningful "nobler mission" for the organization, getting the right people and putting them in the right roles, translating strategy, being a role model while supporting and empowering his team members, building his legacy and developing a succession plan.
Understanding the Societal Impact of Business Schools
About 70% of AACSB and EQUIS accredited business schools use the word "Impact" or "Influence" when defining themselves.
Why are BS interested by its Impact? Is it enough to talk about impact? How is it assessed? How are BS contributing to developing human capital, society and making the world a better place?
Focusing on impact helps enterprising deans to change the strategic priorities of their schools, giving more purpose to its actions and engaging more stakeholders.
Impact shouldn't be seen on an individual level, but for the good of the community, the country, the region, the humanity; so it could be local, national, regional or global impact. Also, the impact depends on the zone of influence of the school. The impact is academic, but also on management practices. The impact can be reached through collaborative oriented-research projects, entrepreneurship structures, scholarships, government-industry partnership, consulting activities,
Regarding assessment of Impact, the main difficulties are data availability and collection, but also lack of accuracy of data or its irrelevance to express the real situation. The challenge is that it's not obviously observed in the short term, or in one shot. It's a continuous and consistent effort, based on formal impact evaluation processes, leading to recommendations for continuous improvement. Future actions/ projects will be then addressing societal challenges. For example, entrepreneurship structure development impact is to improve employability; professional development for faculty and administrative staff impact is to enhance sustainable transformation; opening a new campus in a specific location impacts the development of the city or the region.
As the term "Impact" is multidimensional, it's important actually to ask the following questions:
-Impact of What?
.Is it the Impact of Research?
.Is it the Impact of Executive Education?
-Impact on what or whom?
.On People?
.On Organization?
.On Society?
-Impact where?
.In the Region?
.In the Country?
.In the World?
Talking about Impact is also a way to balance two forces:
-Local Impact and Global Impact;
-Academic Impact and Managerial Impact.
Last but not least, talking about Impact is also a way to value each stakeholder's contribution and be proud of it."