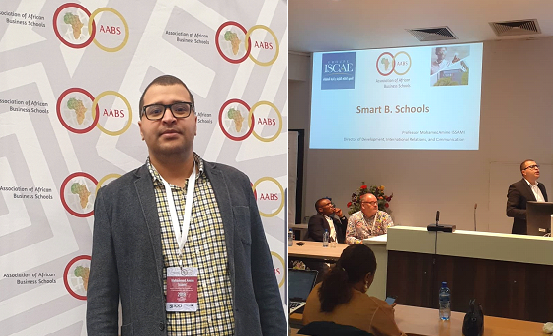 "A Leadership Agenda for the 4th Industrial Revolution"
Le Pr.  Mohamed Amine ISSAMI, Directeur du Développement, Relations Internationales et Communication a pris part, du 06 au 09 Juin 2019, à AABS Connect Annual Conference à l'University of Stellenbosch Business School, Cape Town, Afrique du Sud, sous le thème:
"A Leadership Agenda for the 4th Industrial Revolution".
Ci-après le compte-rendu de cet événement en anglais, tel que rapport par le Pr. ISSAMI:
"There is an increasing expectation that business schools in Africa play a leading role in our new world dominated by the 4th Industrial Revolution. This international conference focuses on how business schools and industry can join hands to provide leadership to add economic and social value in African and global societies.
This new age for humanity will require a new type of leader –a leader who can "navigate these changes with integrity and to provide positive, impactful leadership as the business landscape takes a new shape" (World Economic Forum Annual Meeting, 2018).
When thinking about the 4th Industrial Revolution, the first thing that comes to mind is the reinvention of work. This includes the saving of jobs, the adoption of new skills and the invention of new jobs, which open up opportunities for business education and business leaders.
What are the implications of this agenda for business schools in Africa? What are the implications for industry on the continent and the world? What are the key points of challenge and which possibilities are created? What should be the focus of our debates in the years to come?
This annual meeting aims to provide you with a conference to connect with fellow business schools practitioners, business leaders, public officials, thought leaders and business schools alumni. AABS Connect encourages debate to aid our African business and management education growth strategy.
The launch of the AABS Accreditation process, which has officially begun in October 2018, has shown impeccable influence across many arenas. AABS is not only embedding an impact-full culture of continuous improvement in the continent, but is also a major contributor in improving global measures for management education worldwide. It is no coincidence that Impact is one of the main cornerstones of the AABS accreditation standards.
On June 08th, Professor ISSAMI has participated as a speaker in one of the five panels and interviewed by Financial Mail a South African newspaper, the topic of the session was "Teaching and research in the world of 4IR/4IR ready learning/classroom of tomorrow". The presentation highlighted the concept of smart B. Schools. Besides, Professor ISSAMI has represented Groupe ISCAE at the annual AABS Members Meeting held on Sunday, 9 June 2019, after the AABS Connect Conference, at University of Stellenbosch, South Africa."