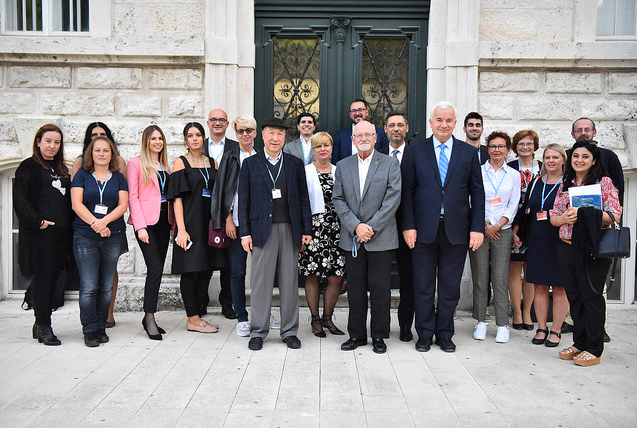 « Qualité et Gouvernance dans l'Enseignement Supérieur : Ouvrir de Nouvelles Frontières »
Organisée les  27 et 28 Septembre 2018 à Dubrovnik-Croatie, par Zagreb School of Economics and Management (ZSEM) et the AACSB accredited Business School in Croatia, cette conférence a connu la participation de plus de 20 nationalités.
Lors de cette manifestation,  le Pr. Nada SOUDI a présenté un article Intitulé : »Innovation by Immersion projects for valorization of the role of Higher Education institutions in the economic development« .
Cet article a été retenu pour publication dans un Numéro spécial avec ISSN parce qu'il rejoint la vision AACSB.
Ci-après le résumé de l'intervention:
"The development of university researches and their economic valorisation are still nourishing a scientific debate.
 For decades, the dichotomy was notorious between the work done by theoreticians / academicians and managers within companies. University research could bifurcate towards new models and innovations, useful for the entrepreneurial needs but unfortunately not communicated. There is a lack in the link that constituted an opaque dam. The challenge is about rising the entrepreneurial paradigm within the university sphere, and allow considerable synergies between the two stakeholders.
The triple helix theory developed by Loet Leydesdorff and Henry Erzkowicz (2000), aimed to create bridges between university and industries with the support of the government. Also, several theorists try to reinforce the collaboration and to valorise the role of higher education institutions in the economic world. The literature is rich but the measures of impacts are difficult to find.
In the same way, International accreditations such as AaCSB, highlight the debate; the new pedagogy models includes the immersion of students in the entrepreneurial world and the approach of "Test and learn" for the innovative ideas.  That's why a new approach related to pull innovation, is developed by ISCAE, Moroccan Business School, to fulfil triadic collaboration: Students, companies and school. The study results should answer the problematic: Are the immersion projects a first step to create bridges between schools and companies? What kind of Approach and what the results, and perspectives?
                               This article is divided into two main parts, the first one is devoted to a theoretical analysis of the problematic. The second part is dedicated to an empirical study that aim to present case study about Immersion project in ISCAE High school."
KEY WORDS: Pull innovation,
Immersion, business school, International accreditation, AACSB, triple helix.