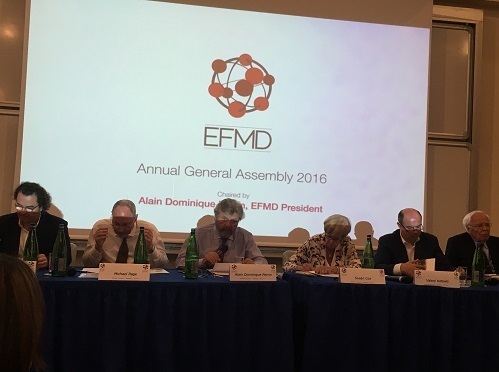 Le   Groupe ISCAE a participé à  la Conférence Annuelle de l'EFMD « the 2016 EFMD Annual Conférence »,  tenue du 12  au 14 Juin 2016 à Luiss Business School à Rome.
Cette manifestation a été une occasion unique pour les membres de l'EFMD, les entreprises, les établissements d'enseignement et d'autres associations intéressées par l'éducation et la gestion du développement de découvrir les façons diverses dont les établissements de formation peuvent jouer un rôle important, relevant ainsi les défis de la société d'aujourd'hui.
Ci-après la synthèse des principaux thèmes abordés :
"The 2016 EFMD Annual Conference that took place in Rome, hosted by Luiss Business School, from June 12 to 14th, was another opportunity to bring together leaders of Business Schools from all over the world. The speakers and participants shared ideas and insights about « Collaboration, Creativity and Change », and the challenges that lay beneath.
The 21st century has been described as a « VUCA » world, characterized by Volatility, Uncertainty, Complexity and Ambiguity, which demands Vision, Understanding, Clarity and Agility.
After the Digital Revolution, the speakers were asked about what would be the next big disruption and its impact on society.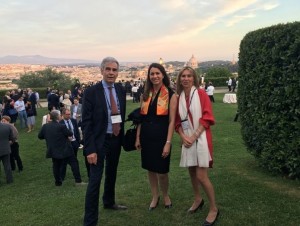 According to one of the speakers, the next disruption is the society change through the rise of the middle class and its need for affordable and life long education. In a global scale, high value education has often been linked to high cost and full time programs. The future is for affordable education, for those who can't access to traditional programs, through virtual faculty, collaborative learning and peer-to-peer knowledge exchange. The need to know becomes the need to share. This is what will become mainstream. Consequently, the challenge is how to leverage technology to catch the opportunities.
This is why another big disruption will come from new unpredictable players such as non-traditional Business Schools that will have a contamination or butterfly effect. This uncertainty and non-predictability urges Business Schools to be constantly watching the environment and the new actors as potential competitors.
Big disruption will also come from entrepreneurship, because many new generation talents are creating value through start-ups and looking for new customers in all areas. They can actually be the new players to watch.
My personal point of view is that a big disruption will come from Africa. The challenge for global companies in general that also applies to Business Schools is how to become "local", especially for those who aim to address the African market of education. With its young population and growing middle class, the number of students in the continent will be multiplied by three for the next generation. However, Business Schools targeting these students have to be "glocal", using global approaches while taking into account specific local identities, in a diverse Africa. I strongly believe that the most prestigious Business Schools are not better prepared to address local issues, including education. They lack the field experience.
This is why the collaboration with leading local Business Schools is necessary in order to adapt to the region's specific needs."
Nada BIAZ
Directrice Générale
GROUPE ISCAE